Unilateral Erection Anchor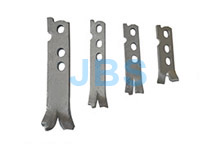 Similar Application as Erection Anchor.

In contrast to the erection anchor, Unilaterial erection anchor can only be subjected to load in one direction. Its shape makes it particularly suitable for thin components.

A semi-circular notch is provided for fitting of the turning reinforcement.

* Other Length are available by order.

* Safety Factor is 3:1.

* Stainless Steel 304 (A2)/316 (A4) are available according to the request.

* Surface Black /Zinc Plate (Z.P) / Hot Dipping Galvanizing (H.D.G) are available.