Two-Hole Erection Anchor (With Shear Plate)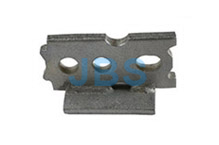 This anchor is designed for use where the lift direction applies a tension load only to the anchor.

The full S.W. L can be achieved in slab by using a tension bar in the second hole or when there is low concrete strength.

* Other Length are available by order.

* Safety Factor is 3:1.

* Stainless Steel 304 (A2)/316 (A4) are available according to the request.

* Surface Black /Zinc Plate (Z.P) / Hot Dipping Galvanizing (H.D.G) are available.