Spherical-Head Tilt-Up Anchor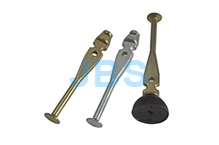 JBS Tilt-Up Anchor also named as Pitching Anchor. It's used for erection and transport of thin precast concrete elements,such as walls/beams.

This anchor should be cast in the concrete by a special recess former, but using the same lifting clutch as lifting anchor.
* Safety Factor is 3:1.

* Stainless Steel 304 (A2)/316(A4) are available according to the request.

* Surface Black /Zinc Plate (Z.P) / Hot Dipping Galvanizing (H.D.G) are available.