Forged Foot Erection Anchor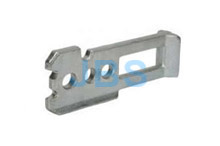 Ideal for horizontal to vertical edge lifts and the shear rotation of thin-walled units.

Specially designed head provides added protection against spalling, specially designed body allows for full reinforement.

The shear foot replaces the need for shear bar making it easier to install.

The full SWL can be achieved in thin slab by using a reinforcement tension bar in the second hole or when there is low concrete strength.